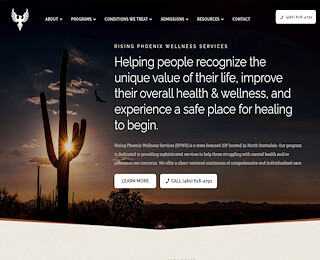 Substance addiction is a chronic, life-threatening disorder with long-term consequences. Ignoring it will make it worse fast, while self-treatments are generally useless and cause more problems than they fix. We urge you to consider our drug rehab in Scottsdale at Rising Phoenix Wellness Services today before your situation worsens any further.
Find the best Arizona treatment center!
Finding a reliable rehabilitation center is paramount for fast and sustainable recovery. You want to overcome addiction fast, with as little discomfort as possible, and remain sober, preferably for a lifetime. This means that your treatment of choice should provide comprehensive treatment with long-term benefits. Our Arizona addiction recovery center functions based on holistic principles, providing patients with an unparalleled recovery experience.
We treat addiction using a multidisciplinary approach, involving programs like:
Clinical detoxification – Using medication and therapy to counter the withdrawal, stabilize your cognitive functioning, and cleanse your system of all the drug and alcohol-related toxins. The detox program is essential for a safe and sustainable recovery, allowing you to recover faster and prevent short-term relapse.
Dual diagnosis – Our Scottsdale drug and alcohol treatment includes dual diagnosis treatment to identify and address co-occurring disorders during rehab. This includes mental health problems like PTSD, anxiety, depression, traumas, etc. The program is vital for stabilizing our patients' conditions and allow them to heal and live cleaner, happier lives over the years.
Inpatient treatment – The inpatient treatment represents a milestone in the rehab process at our Scottsdale addiction treatment center. It relies on 24/7 supervision, therapy, medication management, group counseling, etc., to promote sobriety and healthy living. We aim to help you grow a healthy routine during the inpatient rehab that you will carry with you upon returning home.
Outpatient program – The outpatient program relies on weekly meetings and therapy sessions to reinforce patients' commitment to sobriety. You will participate in therapy sessions, counseling, and drug and alcohol testing during our Scottsdale rehab for addiction treatment, to help you stay on track and reach your sobriety goals.
Alumni program – Alumni functions as an aftercare program and has no time duration. It is optional, and it comes with long-term benefits, including a healthier lifestyle, sustainable sobriety, and more successful social reintegration.
Drug treatment centers to avoid
Not all rehab facilities function under the same quality standards. When looking to begin your rehab treatment, stay away from treatment facilities that:
Only focus on detox and not much else
Rely strictly on outpatient programs, making them unfit for addressing severe addictions or mental disorders
Are not transparent about their programs, payment options, or staff certifications
Offer subpar amenities and rehabilitation programs
Lack of reliable aftercare programs, which are essential for sobriety reinforcement and successful social reintegration
If you're after reliable drug rehab in Scottsdale, contact Rising Phoenix Wellness Services at 480-589-0895, and let's discuss your treatment options and expectations. We can tailor a customized program for you, allowing you to recover fast in a comfortable and safe setting. Come in for assessment and a facility tour, and let's begin the treatment today!
drug rehab Scottsdale